The Referable Speaker with Michael Port and Andrew Davis
October 18 @ 6:00 pm

-

8:00 pm

EDT
Use the Gigs You Get to Get the Gigs You Want
You spend a ton of time building your personal brand. You write blog posts and record your podcast. You post on Instagram and upload to YouTube. You refine your speaking website, work on that book, participate in Clubhouse, and comment on LinkedIn. You share your expertise and insight freely.
It turns out that all of that hard work might get you one gig. Unfortunately, none of those things will guarantee you the next gig.
What if you became a referable speaker?
It's the fastest, most practical way to increase your fee and generate more leads. Instead of investing in marketing yourself as a great speaker, invest in your speech. Because, unless you're famous, event organizers don't buy you (or your personal brand.) They buy the speech, then your idea, then you―in that order.
In this ground-breaking, deep dive, virtual session, industry icons Michael Port and Andrew Davis will break down the three F+E+E Factors: Fame, Entertainment, & Expertise. You'll learn how to increase your entertainment value, how to make the leap to the keynote stage and the elegantly simple secret to becoming a big fish in a small pond.
You'll leave with an entirely new, eye-opening, and refreshing understanding of how the speaking business works and how you can make an impact fast.
Do you have what it takes to become a referable speaker?
You do.
And, at the end of this deep dive session, you'll also get an extra 15 minutes of bonus time with Michael Port live where he'll answer your most pressing questions.
Agenda
6:00 – 6:30: Networking
6:30 – 7:55: Session and Q/A with Michael and Andrew
7:55 – 8:00: Wrap up/meeting commence
Michael Port
Michael Port is the NY Times and WSJ bestselling author of nine books, which have been translated into twenty-nine languages. After delivering thousands of paid speeches on the world's biggest stages, Michael and his wife, Amy, built Heroic Public Speaking HQ , a ten-thousand-square-foot performance training center, to develop and nurture the next generation of professional speakers along with CEOs and founders, bestselling authors, business owners, and people leading movements and advancing important causes. More at www.HeroicPublicSpeaking.com.
@heroicpublicspeaking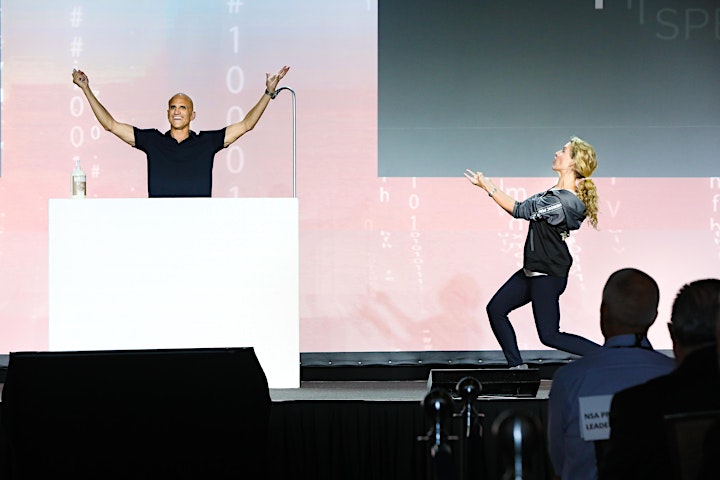 Andrew Davis
Andrew Davis is a bestselling author and internationally acclaimed keynote speaker. Before building and selling a thriving digital marketing agency, Andrew produced for NBc's Today Show, worked for the Jim Henson Company's Muppets in New York, and wrote for Charles Kuralt. Recognized as one of the industry's "Jaw-Dropping Marketing Speakers," Andrew is a mainstay on global marketing influencer lists. Wherever he goes, Andrew Davis puts his infectious enthusiasm and magnetic speaking style to good use teaching business leaders how to grow their businesses, transform their cities, and leave their legacy. More at www.AKADrewDavis.com.
@drewdavishere