Do You! Finding Your Points of Distinction with Jessica Pettitt
February 13, 2023 @ 6:00 pm

-

9:00 pm

EST
Authenticity is right under your nose! Do You! is for speakers, solopreneurs, and those seeking clarity on their purpose & direction. 🙂
Join CAPS Toronto LIVE and in-person at Dave & Busters (120 Interchange Way, Vaughan, ON, L4K 5C3) to hear the one and only Jessica Pettitt presenting:
Do You! Finding Your Points of Distinction with Jessica Pettitt
We have a very special day planned for you! In addition to our regular evening meeting (in-person), we also have an additional special afternoon deep-dive workshop with Jessica (limited spots available)! Check out the details below.
______
Authenticity is right under your nose! Do You! is for speakers (seasoned and emerging), solopreneurs, and those seeking clarity on their purpose and direction.
Do you know what differentiates you from other speakers or trainers in your topic area? Do you really? Be prepared for a highly interactive, high-energy, humourous time where NO question is off limits as Jessica leads an exercise to help you know how to lean on what makes you YOU and not THEM.
______
The special afternoon deep dive from 2pm to 4:30pm will include:
A unique branding activity
A messaging audit – are you doing you?
A deep dive into what makes you distinctively YOU
Valuable resources to help you book more business
Tickets for the afternoon deep dive at Dave & Busters are as follows (reserve your spot ASAP as limited seats are available):
CAPS members: $99 + HST
Non-members: $199 + HST (includes complimentary admission to the evening session)
Thanks to Jessica's very generous offer, all proceeds from this deep dive event will go directly to CAPS Toronto, to make your membership experience even better! (Thank you so much Jessica!)
The evening session at Dave & Busters from 6pm to 9pm will include (FREE for CAPS members):
An unforgettable, humourous, and high-energy evening full of insights and ah-ha moments that will help you grow your speaking business. By the end of the night, you will be able to:
Clearly identify your points of distinction, and grow your realm of influence in your niche market
Develop executable, tangible projects to collaborate on and contribute to your area of expertise
Refer back to your all you've learned with an electronic workbook
Here is the evening agenda:
6:00 – 6:45pm – Informal networking
6:45 – 7:00pm – Formal welcome
7:00 – 7:45pm – Speaker Jess Pettitt takes the stage
7:45 – 8:00pm – Break
8:00 – 8:45pm – Speaker Jess Pettitt continues her session
8:45 – 9:00pm – Closing remarks (with a special prize draw!)
Along with the great programming, there will be a delicious buffet of hors d'oeuvres (vegetarian options included), unlimited coffee, tea, pop, water, and a bar where you can purchase other beverages too.
Tickets for the evening session :
CAPS members: FREE!
Non-members: $87 + HST
Did you know? Dave & Busters just a 10-minute drive away from our old location and is accessible by public transit! Plus, our meeting room is nice and calm and quiet, free from the louder noises in the main portion of the restaurant and arcade.
Note: As this is a live event; no recordings will be available afterwards! You have to be there or be square, steeped in #FOMO! 🙂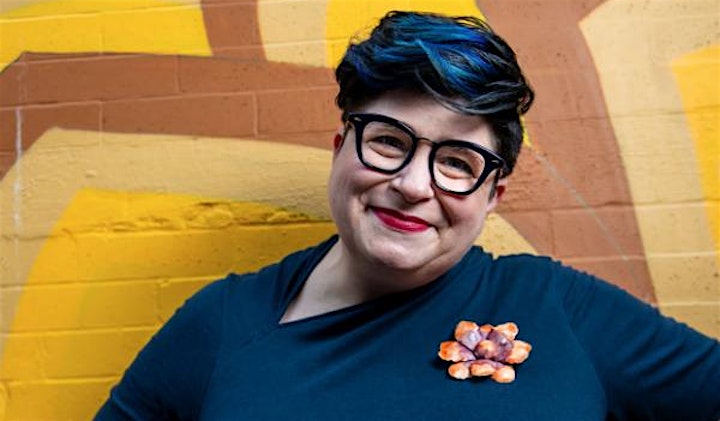 Who is Jessica Pettitt?
Jessica Pettitt, M.Ed., MBA, CSP, combines her years of stand up comedy with 15+ years of diversity training for a wide range of organizations, to serve groups in moving from abstract fears to actionable habits. Her work lead to developing teams that want to work together.  With a sense of belonging and understanding, colleagues take more risks with their ideation, converse precious resources through collaboration, and maintain real connections over time. Jessica is also the author of the book: Good Enough Now: How Doing the Best We Can With What We Have Is Better Than Nothing.
SPECIAL BONUS: 1-hour VIP morning accountability check-in with Jessica (only 3 spots available!)
Now that you are full of inspiration and ready to apply all you've learned from Jessica into your business, take this opportunity to reserve your very own, virtual accountability check-in with Jessica. Share your plans with Jessica and get personalized feedback to grow your success rate.
All proceeds will go directly to support your chapter, CAPS Toronto. Only 3 spots are available, and these will be booked in a first-come, first-served basis for the following dates:
Tickets are only $50 + HST (woah, that's it?):
1 ticket for Tuesday February 14th: One-on-one morning check-in call (via Zoom)
1 ticket for Wednesday February 15th: One-on-one morning check-in call (via Zoom)
1 ticket for Thursday February 16th: One-on-one morning check-in call (via Zoom)
Don't wait – reserve your spot and register today! We look forward to seeing you live and in-person on February 13th!