Be Unforgettable: Emotional Marketing Mastery with Keka DasGupta
September 11, 2023 @ 2:00 pm

-

9:00 pm

EDT
Calling all professional speakers! Join us for a powerful afternoon masterclass, and a value-packed evening workshop with Keka DasGupta.
Join CAPS Toronto in-person for an epic day of learning and networking – open to members and non-members.
Be Unforgettable: Emotional Marketing Mastery with 50x Award-Winning Marketer, Keka DasGupta
Do you want to have a speaker brand that people actively seek out, where you don't have to "pitch" to prospects because they come to you first?
Do you want to create "talk value" around what you offer as a speaker, so decision-makers feel inspired to share your profile with other leaders, unprompted?
Do you want to your marketing to work harder for you, so you don't have to do the nitty-gritty grind every day?
If you answered "yes" to any of the questions above, then this CAPS Toronto programming is not-to-be-missed. (And if you think your topic of expertise doesn't call for emotional marketing, remember, EVERY decision we make as humans, no matter the category, is driven by our emotions.)
You will get to learn from Keka DasGupta, a 50x award-winning marketer, who has won the global "Oscars of the PR industry" twice (once in 2016, and again this year). She has judged several of Canada's preeminent marketing awards, and last year, she shared her expertise at the Global Speakers Summit in Dublin, Ireland to rave reviews. Keka's marketing experience over 25 years includes work for such iconic brands as: Disney, Nike, American Express, Mercedes-Benz, IKEA, and Johnson & Johnson, alongside a host of entrepreneurs and small businesses just like yours.

We have a powerful day planned for you that includes an interactive afternoon masterclass, and then our signature CAPS Toronto evening programming.
SPECIAL ANNOUNCEMENT: For the evening session, CAPS Toronto is hosting an Open House and offering complimentary tickets to non-members (an $87 value). Attend this valuable workshop for free and experience first-hand what the amazing CAPS community offers!
Limited spots are available, so register today!
______
Check out the afternoon deep-dive masterclass – 2pm to 4:30pm:
Craft Your Emotional Marketing Signature to Stand Out
Keka will teach attendees how Canada's top ad agencies employ a process called "insight mining" to get deeper into the sub-conscious needs in their audiences' psyche
Practicing this model during this masterclass, discover the unspoken needs of your target audience so your marketing can become exponentially more emotionally intuitive
Learn where and how these insights can be applied to your current marketing efforts, so you can stand out as an unforgettable speaker in today's crowded marketplace
Tickets for the afternoon masterclass at Dave & Busters are as follows (reserve your spot ASAP as limited seats are available):
CAPS members: $99
Non-members: $199
All proceeds from this masterclass will go directly to CAPS Toronto, to make your membership experience even better!
Evening Workshop & Open House at Dave & Busters – 6pm to 9pm (FREE for both CAPS members and non-members!):
Create Raving Fans Through Emotional Marketing
Understand the science behind how emotions drive human behaviour – specifically that of your target audience through your marketing
Discover the power of emotional connectors such as: Vulnerability, Relatability and Resonance, for your marketing strategies
Learn how to inject authentic emotion through these connectors into your current marketing strategies to produce raving fans
Here is the evening agenda:
6:00 – 6:30pm – Informal networking
6:30 – 7:00pm – Formal welcome
7:00 – 7:45pm – Speaker Keka DasGupta takes the stage
7:45 – 8:00pm – Break
8:00 – 8:30pm – Speaker Keka DasGupta continues her session
8:30 – 9:00pm – Closing remarks (with a special draw for prizes!)
Along with the great programming, there will be a delicious buffet of hors d'oeuvres (vegetarian options included), unlimited coffee, tea, pop, water, and a bar where you can purchase other beverages too.
Tickets for the evening session :
CAPS members: FREE!
Non-members: FREE for the CAPS Toronto Open House special (an $87 value)
Did you know? Dave & Busters is just off of Hwy 400 & 407, and is accessible by public transit. Plus, our private meeting room is spacious, calm and quiet, free from the noisier main portion of the restaurant and arcade.
Note: This is a live event and no recordings will be available afterwards. Be there or be square! 🙂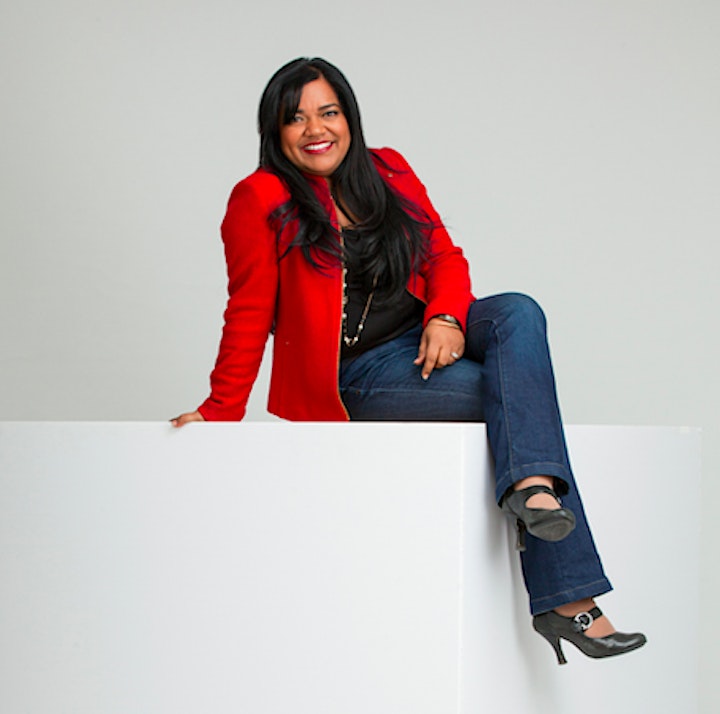 Meet Keka (pronounced like: "Cake" with an "a" at the end)
Keka DasGupta is the only marketing expert in the world who is using powerful branding and marketing principles to dramatically improve our mental health. After all, have you ever met a brand with low self-esteem? No!
Keka's authentic, passionate, and high-energy approach connects deeply with audiences of all ages (it's true, she speaks to top CEOs, right through to middle and high schoolers). She shares her lived experiences, real award-winning marketing case studies that she's worked on personally, and shares science-backed data. Through all of this, Keka takes people on an emotional, experiential journey with her. ChatGPT just can't compete!
Keka, an international keynote and TEDx speaker, has graced stages across Canada, the US and Europe. She is a proud daughter to immigrant parents, and as a woman of colour, she has broken many glass ceilings in her career. Keka describes herself as a woman who is "mom-ing" and "business-ing" on her own terms, hence her company name: The Art of Life-ing.